Warhammer: Vermintide Intro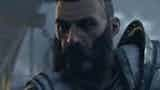 Bläck Studios and Imagination Studios teamed up with the game developer Fatshark to collaborate on their new title Warhammer: End times, Vermintide.
Bläck Studios stood for the creation of the Intro Cinematic and one of the main heroes, the Empire Soldier, and Imagination Studios stood for all in-game locomotion and performance capture for the cinematic.
For this spot I was responsible of creating the Empire Soldier as an ingame hero asset and at the same time make sure he would hold up in the trailer. My second task was to lead the ingame to cinematic conversion of all other characters seen here.
Contributors
Tom Olsson: Executive Producer
Peter Levin: Executive Producer
Annika Torell Österman: Executive Producer
Fredrik Löfberg: Director
Gustaf Holmsten: Creative Director
Henrik Eklundh: VFX Supervisor
Jonas Skoog: Lead Character Artist
Jonas Ekman: Lead Animator
Simon Rainerson: Light & FX TD
Peter Blomstrand: Lead Compositor & FX
Calle Granström: Mattepaint & Compositor
Pontus Garmvild: Production Manager
Peter Jemstedt: Rigging TD
Jonathan Forefält: Production Assistant
Janak Thakker: Animator
Sebastian Salvo: Junior 3D Artist
Erik Tylberg: Junior 3D Artist
Jonas Schild: Junior Animator
Andree Wallin: Concept Artist
Daniel Bystedt: Character Artist
Motion capture by Imagination Studios
Studio Manager: Anton Söderhäll
Motion Capture Animation Manager: Andrew Hutchinson
Motion Capture Supervisor: Samuel Tyskling
Motion Capture Lead: David Grice
Software Developer: Jakob Alenius
Performance by Svenska Stuntgruppen
Seth Ericsson
Nicklas Hansson
Tim Man