Ubisoft - Skull and Bones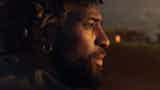 The cinematic trailer for Skull and Bones tells a 'rags to riches' story about the destitute character Sam, finding his way from the streets of Boston, overcoming adversities and swashbuckling his way to become a pirate lord in the Indian Ocean.
Besides acting as Supportive Character Lead on this show my main focus was the main Hero Sam where I did most of the work except the face modeling.
Groom in houdini, body/clothes in Zbrush/Marvelous Designer, texturing in Substance Painter and shading in Vray.