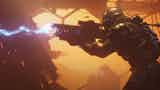 It was a true pleasure to produce this trailer for the upcoming game "The Outer Worlds 2".  Working closely with our friends at Buddha Jones, the mission was to create a game trailer that includes everything a game trailer should include – but spun with tongue-in-cheek humour and a touch of delightful irony.
The trailer was released at the annual Xbox & Bethesda Games Showcase on June 13th 2021.
---
Role: Character Artist
Art Contribution: I created all aspects of the running Armored Soldiers including full concept.
Zbrush and Maya were used for Modeling/Sculpt.
Lookdev and Groom created in Houdini.
Contributors
Buddha Jones:
Scott Carson - Head of Games
Steve Robertson - Creative Director/Writer
Rob Ondarza - Producer
Kris Baron - Associate Producer
Joey Lindquist - Editor
Dave Lindblad - Composer
Thor Ensrud - Motion Graphics Designer
Xbox:
Julie Lowe - MarCom Director
Steven Dodson - Marketing Director
Marcus Morgan - Sr Product Marketing Manager
Obsidian Entertainment
Brandon Adler – Game Director
Mikey Dowling – Director of Communications
Daniel Alpert – Art Director
Leonard Boyarsky – Creative Director
Brian Heins – Content Director
Joseph Rubino – Cinematic Director
Goodbye Kansas Studios:
Director: Bengt-Anton Runsten
VFX Supervisor: Kristian Zarins
CG Supervisor: Alexis Andersson
Animation Director: Jonas Ekman
Executive Producer: Jörgen Lilja
Producer: Rebeca Cervantes
Production Coordinator: Jona Wedholm
Lead Character artist: Magnus Eriksson
Character Modeling: Magnus Eriksson, Jonas Skoog, Marlon Nuñez,
Character Look Development: Magnus Eriksson, Jonas Skoog, Marlon Nuñez,
Lead Environment Artist: Tony Alamo
Environment Modelers: Peter Skager, Jesper Bardhamre, Daniel Axelsson, Magnus Eriksson, Andreas Leijon, Klas Trulsson, Kristoffer Andersson, Edouard
Calemard, Andrea Origlia
Look Development Artists: Jesper Bardhamre, Andreas Leijon, Peter Skager, Matthias Mittelmeyer, Edouard Calemard, Kristoffer Andersson, Andrea Origlia,
Lead Lighting Artist: Alexis Andersson
Lighting and Rendering: Johan Vikström, Andrea Origlia, Edouard Calemard
Rigging Lead: Gabija Smalinskaite
Rigging TD: Peter Jemstedt, Stephanie Holder
Lead Character FX: Ludvig Eliasson
Character FX Artists: Viktor Lanner
Head of Layout: Oliver Askew
Layout: Souvik Mitra
Animators: Jonathan Skifs, Jonas Ekman
FX Lead: Victor Wagner
FX artists: Martin Widö
FX intern: Jakub Kienitz
DMP Artists: Gabriel Björk Stiernström, Bo Zonneveld, Till-Valentin Holder
Concept Artists: Gabriel Björk Stiernström, Bo Zonneveld, Magnus Eriksson
Lead Compositing: Olov Samuelsson
Compositing Artists: Peter Blomstrand, Denys Holovyanko, Tomas Näslund
Head of Editorial: Henrik Klein
Conform: Jimmy Zhu, Finn Jäger
Head of Pipeline: Erik Johansson
System Administrators: Thomas Ericsson, Emil Ferdinandsson, Gabi Gharib, Armin Cero, Hampus Robertsson, Johan Agurén, Fredrik Rönnvall
Department Coordinator: Tiffany Johansson
Grading: Jimmy Zhu