Overkills the Walking Dead - Launch Trailer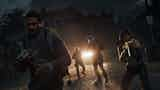 You've meet Aidan, Maya, Grant and Heather in their separate character trailers for Starbeeze's game "Overkill's The Walking Dead". Now it's time to see them in action together, as they're joining forces on their first mission in the post-apocalyptic world of The Walking Dead.
For this trailer I had the role as Lead Character Artist.
Contributors
Director: Fredrik Löfberg
Art Director: Mikael Widegren
Assistant Art Director: Gustaf Holmsten
VFX Supervisor: Henrik Eklundh
Animation Director: Jonas Ekman
Executive Producer: Jörgen Lilja
Producer: Thomas Oger, Rebeca Cervantes
VFX Coordinator: Anna Thenberg
Script: Fredrik Löfberg, Hampus Gross
Lead Character Artist: Jonas Skoog
Character Modeling: Sandra Isaksson, Adam Sacco, Mario Baldi
Lead Facial Modeler: Jonas Törnqvist
Facial Modeler : Anneli Larsson
Character Look Development: Henrik Eklundh, Sandra Isaksson
Lead Environment Artist: Gustav Alexandersson
Environment artist: Mikael Andersson
Assets Modelers: Magnus Andersson, Danilo Lombardo, Frans Åkerman, Jessica Nyberg,
Lead Environment Look Development : Jesper Bardhamre
Look Development Artists: Magnus Andersson, Lucas McBride, Danilo Lombardo, Arturo Orgaz, Axel Flovin
Lead Lighting : Kristian Zarins, Jesper Bardhamre, Lukas Mcbride
Lighting and Rendering: Erika Johansson, Hampus Ericsson, Andreas Leijon, Henrik Eklundh
Lead Rigging: Peter Jemstedt
Lead Character FX : Ludvig Eliasson
Character FX : Gabija Smalinskaite, Stephanie Holder
Facial Rigging : Nils Lerin
Rigging: Gabija Smalinskaite
Head of Facial Animation: Goran Milic
Senior Facial Animator: Tamara Bogdanovic    
Facial Animator: Gorana Kovacevic  
Junior Facial Animator: Antonija Milic
Head of Body Animation: Johan Fröjd
Senior Body Animators: Frida Safar, Dusan Vlatkovic, Viktor Kostik, Jan Germala
Body Animator: Ljiljana Antonovic, Staffan Linder
Lead FX: Max Öberg, Richard Lyons
FX Artists : Jonathan Enström, Maria Giannakourou
Technical Director : Simon Rainerson
Lead MattePainter and Concept Artist: Mikael Widegren
Concept Artist : Gustaf Ekelund, Henrik Lundblad
Storyboard Artist : Mikael Eriksson, Gustaf Ekelund
Lead Compositing: Peter Blomstrand
Compositing Artist: Mattias Sandelius, Denys Holovyanko, Daniel Nordlund, Hannah Myllyoja
Editor: Henrik Klien, Peter Blomstrand, Fredrik Löfberg
Grading : Martin Steinberg
Online : Henrik Klein, Finn Jäger
Pipeline: Erik Johansson, Emil Ferdinandsson, Dan Englesson, Dane Bettis, Joakim Johansson
Sound design: Redpipe
Sound designer: Jon Persson, Joakim Kristensen, Kim Creutzer, Fredrik Lantz
Music : Adam Wallin
Goodbye Kansas Studios Capture Division
Executive Producer : Anton Söderhäll
Line Producer/Mocap Supervisor: Samuel Tyskling
Mocap Lead : David Grice
Stange Manager : Marko Marinkovic
Senior Tracker : Nils Aulin
Junior Mocap Technician : Oskar Olsson
Mocap TD : Oskar Eriksson
Mocap department coordinator : Isa Olai
Makeup : Sanna Johannesson
Goodbye Kansas Studios Scanning Division:
Scan Operator: Roger Sundberg
HMC Supervisor: Sigtor Kildal, Daniel Ljungmark
Production Coordinator : Mitra Ashkan Far
Performance Actors:
Heather: Deirdre Mullins
Grant : William Hope
Aidan: John Mac Millian
Maya : Kae Alexander
Heavy: Johan Lindqvist
Walkers: Nicklas Hansson
Voice Actress
Heather : Kari Walhgren
Maya : Stephanie Sheh
Heavy : Eric Loren
Stunt doubles
Lukas Larsson
Johan Lindqvist