Overkills the Walking Dead - Heather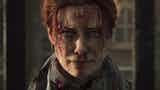 What happens when you hunt someone down, when you corner someone or push someone to the limit? Meet Heather, a strong, smart and determined woman in our latest cinematic trailer for "Overkills The Walking Dead".  Follow her journey as she is confronted by a menacing threat in an everyday scenario (albeit set in the grim post apocalyptic world of "Overkill's The Walking Dead").
Would you survive? Would you fight back?
Besides being Lead Character Artist on this trailer I also was responsible for the full creation of Elena (the female bandit), no scans were used in opposite to the other characters in the trailer. I also created the hair for all characters except the zombies and created the blood look of Heather.
Contributors
Goodbye Kansas Cinematic Team:
Director: Fredrik Löfberg
Art Director: Gustaf Holmsten
VFX Supervisor: Henrik Eklundh
Animation Director: Jonas Ekman
Executive Producer: Jörgen Lilja
Producer: Thomas Oger
VFX Coordinator: Anna Thenberg
Lead Character Artist: Jonas Skoog
Character Modeling: Sandra Isaksson, Adam Sacco, Mario Baldi, Daniel Bystedt
Lead Facial Modeler: Jonas Törnqvist
Facial Modeler : Anneli Larsson
Character Look Development: Henrik Eklundh, Daniel Bystedt, Sandra Isaksson
Lead Environment Artist: Gustav Alexandersson
Assets Modelers: Magnus Andersson, Philip Sandström, Erik Hallberg
Lead Environment Look Development : Jesper Bardhamre
Look Development Artists: Jesper Bardhamre, Magnus Andersson, Lucas McBride, Danilo Lombardo
Lead Lighting : Kristian Zarins
Lighting and Rendering: Erika Johansson, Andreas Leijon, Ivan Costarrosa-Rios, Arturo Orgaz, Wilhelm Moldering, Henrik Eklundh
Lead Rigging: Peter Jemstedt
Lead Character FX : Ludvig Eliasson
Character FX : Gabija Smalinskaite
Facial Rigging : Nils Lerin
Lead Facial Animator: Goran Milic
Facial Animator : Antonija Milic, Gorana Kovacevic, Tamara Bogdanovic, Marga Garcia
Lead Body Animation: Jesus Ruiz Torres
Body Animator : Ljiljana Antonovic,, Dusan Vlatkovic, Marco Sjöberg, Frida Safar, Viktor Kostik, Johan Fröjd
Lead FX: Max Öberg
FX Artists : Ludvig Jonsson, Sebastian Björk, David Vestin, Maria Giannakourou
Technical Director : Simon Rainerson
Lead MattePainter and Concept Artist: Mikael Widegren
Concept Artist : Kait Kybar, Michael Eriksson
Storyboard Artist : Giuseppe Cristiano
Lead Compositing: Peter Blomstrand
Compositing Artist: Tomas Näslund, Mattias Sandelius, Sven Ahlström, Richard Sällqvist, Martin Borell, Fredrik Höglin, Marcus Dempwolf-Holm
Editor: Fredrik Löfberg
Online : Henrik Klein
Pipeline: Erik Johansson, Emil Ferdinandsson
Sound design: Redpipe
Sound designer: Jon Persson
Music : Adam Wallin
Grading : Martin Steinberg
Goodbye Kansas Studios Scanning Division:
Scan Operator: Roger Sundberg
Facial Modeler: Adrina Wennström
HMC Supervisor: Sigtor Kildal
Production Coordinator : Mitra Ashkan Far
Goodbye Kansas Studios Capture Division
Executive Producer : Anton Söderhäll
Line Producer/Mocap Supervisor: Samuel Tyskling
Mocap Lead : David Grice
Stange Manager : Marko Marinkovic
Senior Tracker : Nils Aulin
Junior Mocap Technician : Oskar Olsson
Mocap TD : Oskar Eriksson
Mocap department coordinator : Isa Olai
Makeup : Sanna Johannesson
Performance Actors:
Heather: Deirdre Mullins
Elena: Åsa Ingvarsson
Alan: Josh Lenn
Bob: Christian Wenngren
Walkers: Nicklas Hansson
Voice Actress
Heather : Kari Walhgren
Stunt doubles
Heather : Karin Floengard
Client: Starbreeze
Producer: Hampus Gross
Writer: Thomas Conroy
Executive Producer: Saul Gascon
Art director: Joakim Ericson