Overkills The Walking Dead - Aidan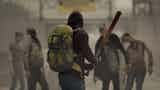 In this cinematic I acted as Character Lead for all "human" characters while the zombies were led by Daniel Bystedt.
In 2018, Starbreeze will launch their brand new game "Overkill's The Walking Dead". This is the first Character trailer, presenting one of the main characters in the game: Aidan.
The film is directed by Andrée Wallin and our teams in Uppsala and Stockholm worked closely with Starbreeze to create it – from script to finished film – and utilized every tool in the tool box to push the boundaries both technically and artistically, including State of the art 3D Scanning for the creation of the characters, full Performance Capture combined with meticulous Key Animation and lots of FX.
We hope you will enjoy this film as much as we enjoyed creating it.
Contributors
Director: Andrée Wallin

Assistant Director: Can Unal

Art Director: Gustaf Holmsten

Creative Consultant: Fredrik Löfberg

VFX Supervisor: Henrik Eklundh

Animation Supervisor: Jonas Ekman

Executive Producer: Jörgen Lilja

Producer: Thomas Oger
Lead Character artists: Jonas Skoog, Daniel Bystedt, Henrik Eklundh
Character Modeling: Mario Baldi, Sandra Isaksson, Adam Sacco

Lead Facial Modeler: Jonas Skoog, Daniel Bystedt, Jonas Törnqvist

Facial Modeler : Anneli Larsson

Lead Environment Artist: Gustav Alexandersson

Assets Modelers: David Birgersson, David Karlstrand, Frans Åkerman, Jacob Moilanen, Jesper Bardhamre, Joel Sundberg, Magnus Andersson, Sandra Isaksson
Lead Lighting and Look Development Artist: Johan Gabrielsson

Character Look Development: Henrik Eklundh, Jonas Skoog, Daniel Bystedt

Look Development Artists: David Birgersson, David Karlstrand, Frans Åkerman, Jacob Moilanen, Jesper Bardhamre, Joel Sundberg, Magnus Andersson, Sandra Isaksson, Sean Kalamgi

Lighting and Rendering: Kristian Zarins, Manuel Riedl, Jesper Bardhamre
Rigging and Cloth TD: Jimmy Johansson, Ludvig Eliasson, Peter Jemstedt

Facial Rigging : Nils Lerin
Lead Animator: Jonas Forsman

Animators: Jonas Ekman, Christina Sidoti, Helene Åsen

Motion Editor: Mattias Lindkvist
Lead FX: Max Öberg
Lead MattePainter and Concept Artist: Mikael Widegren

Matte Painter: Mikael Eriksson

Concept Artist: Teo Mathlein

Storyboard Artist: Giuseppe Cristiano
Lead Compositing: Calle Granström

Compositing Artist: Mattias Sandelius, Peter Blomstrand

Editor: Peter Blomstrand

Grader : Martin Steinberg
Pipeline: Erik Johansson, Emil Ferdinandsson
Sound design: Redpipe

Sound designer: Joakim Kristensen

Head of Mocap Studio: Anton Söderhall

Motion capture Specialists: Samuel Tyskling, David Grice, Nils Aulin, Marko Marinkovic

HMC Operator : Sigtor Kildal

Scan Operator : Roger Sundberg

Aidan: Gershwyn Eustache

Gershwyn's agent: Tiffany Grayson for Arg Talent

Angry Man: Thomas Oger

Walker: Nicklas Hansson

Walker: Seth Ericson
Client: Starbreeze

Producer: Hampus Gross

Writer: Thomas Conroy

Executive Producer: Saul Gascon

Art director: Joakim Ericson