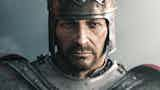 EASY and Playforfree wanted a commercial for their online game Lord of Ultima.
Johan Rimér wanted to show off our skills at Visual Art Studios in both motion
graphics and 3D character design and I think we made a really cool spot. I hope you enjoy!
My job was to create the front character based of the Lord of Ultima keyart along with all the background characters.
Contributors
Client: EA/EASY/Playforfree
Director/3D lead: Johan Rimér
Art director: Alexander Pettersson
3D Character Artist: Jonas Skoog
Animation: Jonas Ekman, Viktoria Anselm
2D comp and mattepainting: Calle Granström