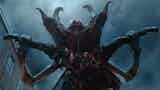 We have always loved Hellboy, Mike Mignola's big cigar smoking crimson bad ass comic book antihero, born as an immensely powerful demon and now working for the government organization Bureau for Paranormal Research and Defense. So we were naturally thrilled to work on Neil Marshall's film version of him, creating some truly nightmarish scenes of demon mayhem on the streets of London.
Here's a look behind the scenes of some of the shots we did. But be warned, this BTS is not for the faint-hearted…
I was tasked with doing lookdev for several of the demons seen in the shots done by Goodbye Kansas Studios.
Contributors
GOODBYE KANSAS STUDIOS
VFX Supervisor: Cameron Scott
CG Supervisor: Hannes Drossel
Executive Producers: Jan Cafourek, Tom Olsson
VFX Coordinators: Alexander Darrell, Michelle Lindgren
Lighting Lead: Kristian Zarins
Modelling Lead: Sandra Isaksson
Rigging Lead: Peter Jemstedt
FX Lead: Max Öberg
Look development Lead: Andreas Leijon
Compositing Lead: Fredrik Höglin
Animation Lead: Staffan Linder
Head of pipeline: Erik Johansson
Head of Art Department: Christopher Brändström
Compositing artists: Denys Holovyanko, Fredrik Mannerström, Hannah Myllyoja, Lars Englund, Martin Borell, Mattias Sandelius, Robin Zeijlon, Sven
Ahlström, Tomas Näslund
Animators: Jared Eng, Jonas Forsman, Raoul Cacciamani, Robert Rosén
Modeling artists: Frans Åkerman, Gustav Alexandersson, Magnus Eriksson, Mario Baldi, Mikael Andersson, Daniel Bystedt
Look development artists: Axel Flovin, Jesper Bardhamre, Johan Gabrielsson, Lukas McBride, Jonas Skoog
Rigging artists: Gabija Smalinskaite, Jimmy Johansson, Mattias Nyberg, Stephanie Holder
FX artists: Jason Simmons, Jonathan Enström, Martin Widö, Mayec Rancel
Concept artist: Mikael Eriksson, Mikael Widegren, Teo Mathlein, Henrik Lundblad
Lighting artist: Erika Johansson, Anna Hilding
Editorial: Henrik Klein
Pipeline TD: Dane Bettis
Layout Artist: Jacob Moilanen
Character FX TD: Ludvig Eliasson
MOTION CAPTURE & BODY ANIMATION
Executive Producer: Anton Söderhäll
Producer: Andrea Wästlund
Body & Face Animation Dep. Coordinator: Mitra Ashkan Far
Motion Capture Dep. Coordinator: Isa Olai
Head of Motion Capture: Sigtor Kildal
Motion Capture Supervisor: Samuel Tyskling
Motion Capture Lead: David Grice
Motion Capture Technician: Marko Marinkovic
Junior Motion Capture Technician: Oskar Olsson
Senior Tracker: Nils Aulin
Production Assistant: Caroline Almqvist
Make-Up Artist: Sanna Johannesson
Head of Body Animation: Johan Fröjd
Body Animators: Frida Safar, Marco Sjöberg, Dusan Vlatkovic, Andrew Hutchingson, Jan Germala, Viktor Kostik, Ljiljana Antonovic, Rini Sugianto
Junior Face Animator: Antonija Milic
Animation and Facial Pipeline Developer: Nils Lerin
Technical Artist: John Augustsson
Junior Technical Artist: Fanny Gustafsson
DIGITAL MATTE PAINTING / EXTENSIONS
VFX Supervisor: Jesper Kjolsrud
VFX Producer: Ryan Delaney
CG Supervisor: James Sutton
Compositor: Alex Balmer
Digital Matte Painter: Philip Karadzhov
Lighting TD: Kevin Gay
3D Generalist: Davide Bigotto, Lydia Kenton, Frederick Vallee, Cyrielle Bounser
Editoral: Mathieu Bourguignon
Pipeline TD: Paul Barton