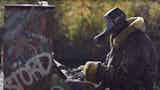 With the video for the song "Geronimo" by Duvchi (feat. Nadia Nair), Simon Stålenhag makes his directorial debut, and Goodbye Kansas worked closely with him to bring his unique visual style to the screen.
The work included creation and animation of the CG head and hands of the main character and underwater sceneries featuring several mysterious extinct creatures.
I created the head of the robot for this video. My first project using Houdini so had lots of fun!
Article in The Verge with some background to the video.
Contributors
Song: Duvchi feat. Nadia Nair - Geronimo
Written by: Jens Duvsjö, Nadia Nair
Produced by: Duvchi
Director: Simon Stålenhag
SALOMONSSON AGENCY:
Producer – Julia Angelin
Line Producer – Sophie Smirnakos
Production – Adam Torbjörnsson, Joel Pettersson, Malin Gyllenhammar Broman, Petter Carlson, Marcus Angelin
DoP: Johan Hannu
First Assistant Cameraman: Jonas Ernhill
Clapper loader: Elis Faber
Gaffer: Christopher Norin
Grip: Fredrik Johansson
DIT: David Rainer
Assistant: Andreas Lindholm
Camera Drone: Jan Jansson
Editor: Peter Wendin
Sound design: Mattias Eklund / Chimney Group
GOODBYE KANSAS TEAM
Executive Producer: Tom Olsson
VFX Supervisor: Staffan Linder
VFX Producer: Hanna Nordersnö
VFX Coordinator: Jona Wedholm
Concept Artist: Christopher Brändström
On set VFX Coordinator: Jonathan Forefält
Matchmove and on set VFX coordinator: Oliver Askew
Matchmove: Marco Sjoberg
Modelling: Jonas Skoog, Frans Åkerman, Andre Valck
LookDev: Jonas Skoog, Erika Johansson, Robin Perden, Axel Flovin
Rigging: Gabija Smalinskaite, Stephanie Holder
Animation: Fredrik Olsson, Jonas Forsman, Jonathan Skifs, Christina Sidoti, Staffan Linder
Lighting: Rodrigo Vivedes, Sean Kalamgi, Alexis Andersson, Pawel Roth
FX: Ludvig Jonsson, David Vestin
Compositing: Fredrik Höglin, Olov Samuelsson, Martin Borell, Jacob Moilanen, Peter Blomstrand, Tomas Näslund, Lars Wallund, Edouard Calemard, Fredrik
Mannerfelt, Markus Bergqvist, Mattias Sandelius, Karl Rydhe, Zebastian Lilja, Max Wester, Hanna Myllyoja
Editorial and colourgrading: Henrik Klein
Editorial: Caio Simbula
Costume: Linda Prejner
Piano notes: Cornelius Cardew
Piano art: Simon Stålenhag, Jens Duvsjö, Carl Löf
Illustration on briefcase: Maja Säfström
Smoke: Nils Gullriksson, Martin Högberg / Arclight