Dragon Age - Inquisition: Vivienne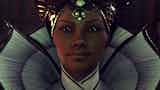 Vivienne is a human mage. She is the official enchanter to the Imperial court, of which she is a respected, and sometimes feared, member. Any mage can destroy their enemies with fire and ice, but Vivienne can rip apart her opponents verbally, politically, socially and make ice seem like the gentlest option.
For this trailer my position was Modeling Lead, supervising the production of all characters & assets.
Contributors
Client: Bioware
Studio: Bläck