Cyberpunk 2077 - Phantom Liberty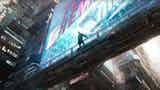 Official Cinematic Trailer
#PhantomLiberty is an upcoming spy-thriller expansion for #Cyberpunk2077. Return as cyber-enhanced mercenary V and embark on a high-stakes mission of espionage and intrigue to save the NUSA President. In the dangerous district of Dogtown, you must forge alliances within a web of shattered loyalties and sinister political machinations. Do you have what it takes to survive?
I had the preasure to be both Character Lead as well as create Solomon Reed for this Cinematic trailer.
Reeds head was scanned and processed by GBK facial department.
I sculpted his body and created his clothes in Mavelous Designer (Short jacket was made by Daniel Axelsson).
I also created the groom and all texture/shading work.
Contributors
Client: CD Projekt Red
Director: Fred Löfberg
VFX Supervisor: Henrik Eklundh
Executve Producer: Jörgen Lilja
Character Lead: Jonas Skoog