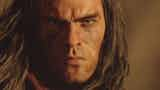 Conan the Barbarian is back in a brand new game from Funcom – Conan Unconquered – a fast paced strategy game where players face wave after wave of enemies in ever-increasing numbers and difficulty.
In the Cinematic Announcement Trailer, we wanted to convey that feeling of epic greatness and created our biggest digital army yet – with no less than 28.000 soldiers. 
---
Role: Lead Character Artist
Art Contribution: Created final concept art for Conans new look and armor along with doing all modeling, lookdev and groom on the Conan asset.
Shotsculpting on body when raising the sword.
Contributors
Goodbye Kansas Cinematic Team:
Director: Emnet Mulugeta
Art Director: Gustaf Holmsten
VFX Supervisor: Henrik Eklundh
CG Supervisor: Alexis Andersson
Executive Producer: Tom Olsson
Producer: Johan Edström
VFX Coordinator: Anna Thenberg
Crowd FX TD : Simon Rainerson
Crowd Character FX TD: Ludvig Eliasson
Lead Character Artist: Jonas Skoog
Character Artist: Frans Åkerman
Lookdev Character Artists: Jonas Skoog, Alexis Andersson, Frans Åkerman, Henrik Eklundh
Keyframe Animation Artists: Jonas Ekman, Robert Rosén
Environment Modelling Artists: Mikael Andersson, Lukas McBride
Environment Lookdev Artists: Johan Gabrielsson, Lukas McBride
Asset Modelers: Frans Åkerman, Lukas McBride, Axel Flovin
Look Development Artists: Frans Åkerman, Alexis Andersson, Erika Johansson, Jakob Moilanen, Axel Flovin
Lead Lighting Artist: Alexis Andersson
Lighting Artists: Hampus Eriksson, Henrik Eklundh
Rigging TD: Jimmy Johansson, Gabija Smalinskaite, Stephanie Holder
Lead Character FX Artist : Ludvig Eliasson
Character FX Artist : Stephanie Holder
Lead FX TD: Richard Lyons
FX Artist: Volker Heisterberg
Lead MattePainter and Concept Artist: Mikael Widegren, Teo Mathlein
Concept Artist : Mikael Eriksson, Henrik Lundblad
Lead Compositing: Peter Blomstrand
Compositing Artist: Mattias Sandelius, Tomas Näslund, Lars Englund
Editor: Emnet Mulugeta
Conform : Henrik Klein
Grading & Online: Finn Jäger
Pipeline: Erik Johansson, Emil Ferdinandsson, Dan Englesson, Dane Bettis
Goodbye Kansas Motion Capture Department:
Executive Producer: Anton Söderhäll
Producer: Andrea Wästlund
Motion Capture Department Coordinator: Isa Olai
Motion Capture Supervisor: Samuel Tyskling
Motion Capture Lead: David Grice
Mocap Operator: Marko Marinkovic
Junior Motion Capture Technician: Oskar Olsson
Senior Tracker: Nils Aulin
Production Assistant: Sanna Johannesson
Body Animation Department Coordinator : Mitra Ashkan Far
Body Animation Supervisor: Johan Fröjd
Body Animators: Frida Safar, Marco Sjöberg, Dusan Vlatkovic
Pipeline Developer: Nils Lerin
Pipeline Developer: Linus Fredriksson
Motion Capture talent
Stunt Performer: Nicklas Hansson (Conan+crowds)
Stunt Performer: Johan Lindqvist (Mitra+crowds)